Yesterday, my family went to see the "The Girl with the Pearl Earring" exhibit at the DeYoung Museum in San Francisco.  It was truly great to see all the Dutch Master paintings.  One of my all-time paintings was there as well: "View of Haarlem from the dunes at Overveen" by Jacob van Ruisdael.  There were also many works by Rembrandt (many, many!) plus works by Steen, Heda, Claesz, van Dyke and Hals.  As an Art Historian with a penchant for Dutch Baroque art, and with Vermeer being my favorite artist (Girl with the Pearl Earring), I was in heaven!  It didn't even bother me much that the museum was overcrowded and that this American crowd had no concept of museum etiquette; the art made it all worth it.  Much to my surprise, even my kids liked the exhibit (they have traditionally hated museums, though this time they went willingly – I guess I've finally worn them down!).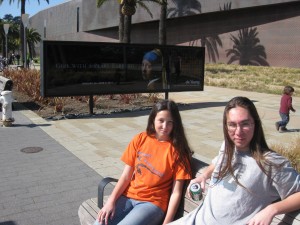 The passes we had bought also got us into the other parts of the museum.  We didn't see the Asian art exhibit that day, but we sort of ran through the African exhibit, and then spent a great deal of time in the American exhibit.  There was a lot of truly great art there, and the collection spanned about 500 years, starting with Aztec Art and going all the way to Modern.  There were also a number of paintings I recognized from Art History text books that I didn't know were at the DeYoung.  My favorite piece was a sculpture of a Gothic Cathedral that had been made out of bullets and gun parts.  It was spectacular.  I also liked the "Susanna and the Elders" painting by Thomas Hart Benton.
The trip to and from the museum was also entertaining.  My son volunteered to drive.  He still has his learner's permit and today would be driving through rush hour traffic and the narrow streets of San Francisco.  This type of driving is not for the faint of heart.  He did just fine.  I used Waze to find all the accidents along the way, though ultimately, we couldn't avoid them because all the streets in the area were backed up today.  We just crawled along until we got to SFO.  Things were a breeze and we were only 10 minutes late by the time we parked in Golden Gate Park.  Our walk from where we parked (the arboretum) was not all that far to the DeYoung – maybe half a mile.  We had the foresight to pack sandwiches and drinks so we ate lunch while walking to the museum.  After our museum tour was over, we wandered around the "gazebo" area for a bit then wandered back to our car.  As is our new family tradition, the kids took many "bench tour" photos along the way (we can't travel anywhere now without many bench pictures – a trend the kids had accidentally started at the Gemaldegalerie in Munich three years ago).  We drove most of the way home, and then stopped in Mt. View for some unique food shopping (things we can't get in Milpitas like fancy French cheese and gourmet peanut butter) then ate dinner there at Chevy's.  When we got home, it was time for our Lifegroup to meet at our house, which is always a party.  The last of that group cleared out at 10:30 after a couple of games of "Mafia" that my son likes to lead.  What a spectacular day!